OVERSTIM.s Organic Spordej Breakfast Cream - Gluten Free
AVAILABILITY :
Last product
ORGANIC SPORDEJ is a delicious, 100% vegan and gluten-free snack that is very easy to digest and provides you with gradual energy before a sporting activity. ORGANIC SPORDEJ combines organic, healthy and nutritious ingredients. It can be taken at breakfast or as a snack during the day.
Easy to digest, energy-packed organic breakfast before a workout
Gradual energy

Combines organic, healthy and nutritious ingredients

Very easy to digest, consume 15 to 30 minutes before the sporting activity

Instant mix: quick and easy to prepare
ORGANIC SPORDEJ A MEAL OF UTMOST IMPORTANCE FOR ATHLETES
Very effective as a sports breakfast taken before a morning workout, ORGANIC SPORDEJ is just as great as a snack, to provide the energy supply athletes need for their training during the day, at lunch or at the end of the day.
WHY TAKE ORGANIC SPORDEJ?


What is training for if it impedes your progress?
While the need for a specific diet is acknowledged for competitions, sports nutrition during training does not always get the attention it deserves.
However, it is the care given to this nutrition that affects both the quality and the progress of the training, and above all the maintenance of physical condition throughout the season.
ORGANIC SPORDEJ is the practical, healthy and tasty solution for pre-workout nutrition.
COMBINES ORGANIC, HEALTHY AND NUTRITIOUS INGREDIENTS
ORGANIC SPORDEJ consists of organic, 100% vegan and gluten-free ingredients, such as:
ground buckwheat
rice flour
ground almonds
lucuma
cocoa beans
WHEN SHOULD YOU TAKE ORGANIC SPORDEJ?
Quick and easy to prepare, take ORGANIC SPORDEJ before a workout, in the morning, lunchtime or at the end of the day.
Take 60 g to 90 g (3 to 5 tablespoons) of ORGANIC SPORDEJ 15 to 30 minutes before the start of your sporting activity, depending on its duration and intensity
ENJOY SOME EXTRA SLEEP
Very easy to digest, ORGANIC SPORDEJ can be taken late, so that when you have training early in the morning, you can enjoy some extra sleep.
ORGANIC OVERSTIM.S: NATURAL ENERGY
Since its founding, OVERSTIM.s' goal has been to offer increasingly healthy and effective sports nutrition. This goal led to the creation, in 2008, of the OVERSTIM.s ORGANIC range, with ingredients specially selected for their quality, traceability and compliance with organic farming standards.
| | | | |
| --- | --- | --- | --- |
| | | | |
| ORGANIC | GLUTEN FREE | VEGAN | MADE IN FRANCE |
No customer reviews for the moment.
Dose:
Preparation:
Pour ORGANIC SPORDEJ into a bowl. Add your favourite plant-based drink (rice, almonds, etc.) or water, and slowly stir until a smooth, creamy texture is obtained. It should be neither runny, nor too thick.
You can also serve ORGANIC SPORDEJ with fresh fruit (bananas, strawberries, blueberries, etc.) for an even more scrumptious snack.
Number of snacks:
1 x 300 g sachet: 5 snacks.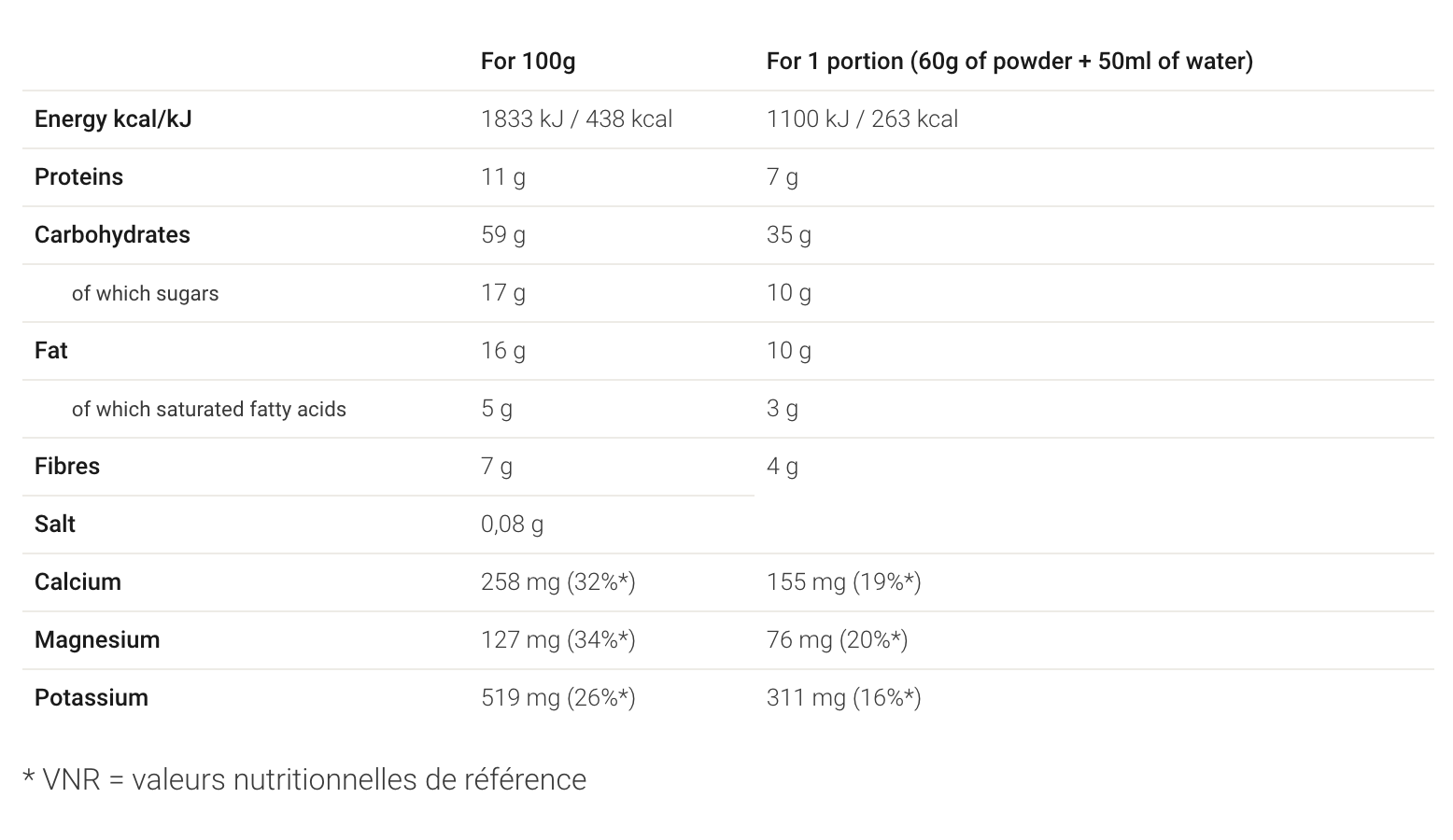 Chocolate:
Ingredients: Buckwheat flour* (25.5%), rice flour* (24%), almond powder* (14%), coconut flower sugar*, chocolate chips* (10%) (cocoa mass 51%, light brown cane sugar, cocoa butter (12.6%), vanilla extract), cacao nibs* (5%), fat-reduced cocoa powder*, lucuma powder* (3%), lithothamnium algae. Made in a facility that uses: milk, nuts, soy, eggs. In accordance with regulations, this product contains less than 20 mg/kg of gluten. *From organic farming.
For Hong Kong : sodium : 32 mg/100 g - 8 mg/60 g