Bring people from couch to trails by Lantau Base Camp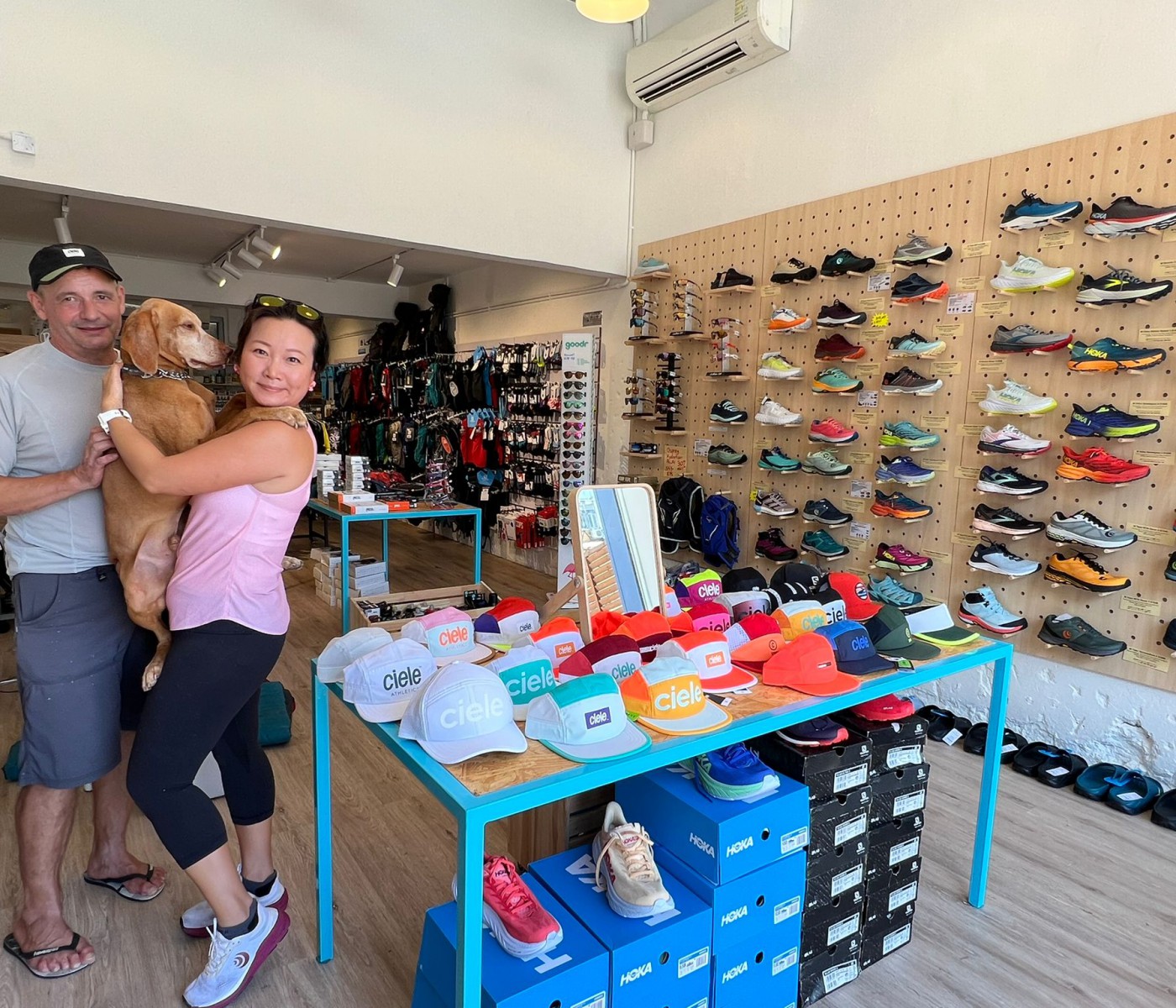 "Our society is increasingly ego- centric chasing minutes and seconds of improvement which of course is inspirational but we choose not to just focus on top athletes but to create greater positive impact on the society by bringing people from couch to trails."Vanessa from Lantau Base Camp (LBC) said. We interviewed Vanessa about the shops.
Lantau Base Camp, just opened a new branch, Sai Kung Base Camp, located in the city centre of Sai Kung area.

So Lantau Basecamp was a name that many knew from races but the shop in Mui Wo was not very big when you took over. What prompted you to take on the project?
I had been a customer for a long time. Before we lived in Mui Wo, I would come over once a while to buy shoes. 10 years ago, trail running was not so popular in Hong Kong and there were not lots of shops offering trail shoes. I really didn't like buying shoes without trying. Later when we adopted dogs and moved to Mui Wo, we shopped there more regularly.
It was for sale and the retail part had not been doing well. We thought it was important to keep in the community.

What is your mission, what does Lantau Basecamp stand for?
It's a base camp and a community, not just a shop as we provide bag drop and shower services at both locations. We also have community runs, rides and events to connect people with the same interests.
We have huge admiration for elite athletes and we will always support their needs, but we are inspired to support everyday people getting outside for better mental and physical health. You don't need to be a super athlete to enter our shops. We strive to be friendly and welcoming for everyone to ask questions and learn about gear or even just hang out. We remember that everyone started somewhere and we try to meet people where they are in a supportive way and help them get outdoors.

What makes Lantau Base Camp different from other shops?
Our staff! The attitude and knowledge of the staff is a core part of what we do to support our mission. Walking into an athletic store can be intimidating to some people and our staff tries to be approachable to help to minimize that and put people at ease. Our staff cares and gives great advice- especially to those who just started out and are overwhelmed by all the choices. All staff get outside, use what we sell and can speak from experience. Finally, we sell what we love and believe in. We give transparent advice based upon the customer's need not because we have hidden incentives to push a certain brand or product. If we don't have what you need, we will send you to where you can. That's much more important than making a sale.

Can you talk about what you like about each location, Mui Wo and Sai Kung?
Mui Wo is surrounded by nature, trails and is very animal friendly. We are happy that we have found mui wo, but we are even happier for our rescue vizslas. They really are the happiest when they are running on the trail and beach- they can run 20km on trails and then jump into water. The corner of active dog wear in both Lantau Basecamp and Sai Kung Basecamp is inspired by our dog "Yu Yu". I also love the ferry, especially at 6:30pm so that I could enjoy the sunset and open-air area. People usually think Mui Wo is very far away but it's actually just 30 minutes away from Central on the ferry.
I grew up in Sai Kung. My childhood home is just a few steps from the shop. We used to play badminton outside the shop after dinner. When we saw this space, we knew this was it. In addition to personal attachment, we love the community- there is a good diversity of people who care about the environment and want to do good. We're looking forward to providing a service and basecamp to them and those who come to enjoy the Sai Kung area.

What are your main goals for Lantau Base Camp and yourself in 2022 and 2023?
The business environment is not exactly positive so first and foremost we need to stay financially afloat! It's been very disheartening to see so many small businesses close in HK. We believe in our plan though. We moved from just selling trail shoes to expanded nutrition offerings, hiking, and mountain biking and bike services. Next spring we will focus a bit on water sports. We don't care how people get outside, just that they do.
Hopefully Hong Kong opens up- we would like to do more social runs and hikes, and run some events for beginners and bring people from couch to trail.
Finally, we are working towards becoming a certified B-Corp.

 What are your favorite sports and why?
Just grab a pair of shoes and then I can go for hike, run or walk! I like simple things. I can also be a very spontaneous person. As I need to make sure I am fit on the trail, I do one class of kick boxing, two classes of weight training, at least one session of yoga, 2-3 training sessions running every week. For my foundational training I am quite disciplined and have a regular schedule every week. I meditate every day 10 to 20 mins in the morning before workout and breakfast.